M.E.S / M.O.M
Manufacturing Execution System / Manufacturing Operations Management
M.E.S / M.O.M
MES/MOM is a shop floor information system that enables you to collect the full range of production data in real time, from raw material acceptance to finished product shipment. This in turn helps you to reduce your costs and enhance your performance.
MES/MOM constitutes the link between ERP, which coordinates the full range of the company's activities, and supervision software, which controls shop floor production equipment.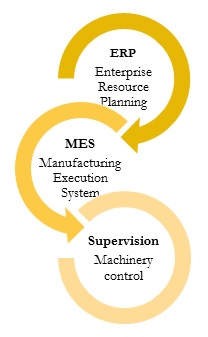 MES/MOM MEETS SHOP FLOOR REQUIREMENTS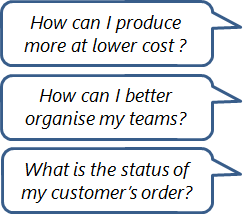 MES/MOM enables you to set up very precise indicators to closely track production. This gives you better control of such parameters as costs, manufacturing capacity, energy consumption and waste management.
MES/MOM enables you to better assign skills and tasks and better manage contingencies. It gives you the precise, real-time data you need to support decision-making.
MES/MOM keeps you abreast of the progress made on each order and updates your production schedule in real time.
MES/MOM: CONCRETE APPLICATIONS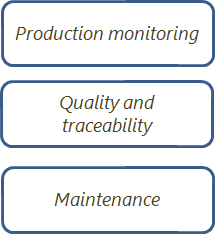 Measure the performance and efficiency of your production facility in real time. Track your OEE (Overall Equipment Effectiveness), organise production operations to ensure on-time delivery and monitor personnel and equipment workload to achieve better management of the full range of your resources.
Track inventory, processes and work flows – from raw material acceptance to product shipment – to control product quality, reduce process variability and ensure compliance with standards and regulations.
Improve the responsiveness of your maintenance teams, track their work and manage preventive and predictive action. With a better overview of contingencies, you can better control your equipment.
ACTEMIUM'S EXPERTISE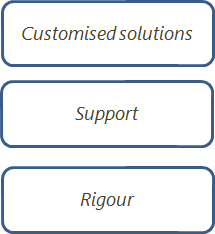 We have longstanding experience with the main commercial MES/MOM solutions and can therefore help you make the choices best suited to your needs and budget. We program the functional modules to address your specific issues.
The introduction of a MES/MOM system is a fully-fledged company project. We support you throughout the process, from specification drafting to employee training.
Regulations are central to our methodology: we work with a Project Quality Plan and meet the requirements of standards including ISO 9001, S95, ISA95 and S88.
MES FOR ALL SECTORS
Food processing
Production cost control
Reduced lead time
Traceability and quality
Pharmaceuticals
Electronic batch file
Serialisation
Weighing station
21 CFR part 11 standard
Audit trail
Manufacturing
Counterfeit control
Serialisation
Quality monitoring
Real-time OEE
Functions
MESA, the US-based Manufacturing Execution System Association, has defined 11 MES/MOM functionalities. The classification sets out the coverage of the various MES/MOM systems and provides an overview of the capabilities of this type of software.
Of course, not all industrial sectors will require all the functionalities. Actemium therefore offers modular, completely customisable solutions.
DATA COLLECTION AND ACQUISITION
Collect and secure raw production, quality and safety data
Acquisition from the factory floor
Automatic or manual collection
OPERATIONS / DETAIL SCHEDULING
Reduce set-up time, know the precise utilisation of each resource
Operations sequenced by priorities, attributes, characteristics and / or recipes
Visual display of sequencing
Accommodation of alternative paths, overlaps, etc.
LABOUR MANAGEMENT
Organise and coordinate teams
Personnel status in real time
Time and attendance reporting
Skill and certification management
RESOURCE ALLOCATION & STATUS
Know and optimise the company's resources: machines, tools, labour skills, raw materials, etc.
Reservation and dispatching to meet operation scheduling objectives
Detailed history and status in real time
DISPATCHING PRODUCTION UNITS
Update the production schedule
Flow management: orders, batches, lots, work orders
Information presented to the various work stations
Change to meet contingencies and feedback to sequencing (completion status, delays)
WIP management
PRODUCT TRACKING & GENEALOGY
Ensure compliance with standards and regulations, meet customer requirements
Process traceability: status, WIP
Product genealogy
Centralisation of all information: components, raw materials, suppliers, lots, serial numbers, current production conditions, alarms
QUALITY MANAGEMENT
Improve quality management and response time in the event of a problem
Real time analysis of measurements collected
SPC/SQC tracking
Management of off-line inspection operations
Management of laboratory information (LIMS)
Recommended corrective action
PROCESS MANAGEMENT
Take rapid action to improve in-process activities, decision support to ensure compliance following a problem
Production monitoring
Automatic correction of process changes outside tolerances
Management of some or all resources
Management of alarms
PERFORMANCE ANALYSIS
Provide up-to-the-minute reporting to optimise production
Real-time tracking of product and operation indicators: resource utilisation, resource availability, product unit cycle time, SPC/SQC
Periodic real time or deferred reporting
Comparison with past history and/or expected business results
DOCUMENT CONTROL
Use and share the same technical documents
Compliance check of files and forms: work instructions, recipes, drawings, standard operating procedures, part programmes, etc.
Transfer of information between resources
MAINTENANCE MANAGEMENT
Ensure availability of production equipment and tools
On-time initiation of periodic and preventive work
Event log, failure register
Diagnostic support tool
Who uses MES/MOM?
The introduction of MES is a fully-fledged business project that must cover the needs of all shop floor personnel:
GENERAL MANAGEMENT
Questions you ask yourself:
How can I produce more with less?
Why is ERP insufficient?
What is my daily production, in real time?
How much does this production cost?
How can I obtain precise and reliable production information?
MES enables you to:
Centralise all production information
Set up indicators to track production status in real time
Coordinate production and ERP
This gives you better control over:
Costs
Capacity
Production plant and equipment
Energy consumption
Waste management
PRODUCTION MANAGER
Questions you ask yourself:
What operator skills are needed?
How should the teams be organised?
Is every task affected?
Are delivery times being met?
What slippage is there, if any?
MES enables you to:
Centralise production information
Set up real time performance indicators
Manage resources
Reduce data input
This gives you better control over:
Assignment of skills
Team organisation
Contingency management (absences, shortages, resources)
Lead times
Raw materials consumption
OPERATOR
Questions you ask yourself:
What should I do now?
Why do I constantly have to fill out work sheets?
Where are the documents I need? Are they up to date?
Have I achieved the objectives set for the day?
Do I have time to re-work a non-conforming part?
MES enables you to:
Avoid spending time on tracking
Display changes in the day's indicators in real time
Respond with full information to a problem
List tasks that are constantly updated
Track concrete objectives in real time
Reduce data input time
Have a better overview of the production process
Make the most of your skills and take on more responsibilities
MAINTENANCE MANAGER
Questions you ask yourself:
What is the failure rate of each piece of equipment? How can failure be avoided?
Do we have the spare part?
When is the next production shutdown planned?
Who will be available to do the job?
MES enables you to:
See the details of down time (by cause, by machine)
Immediately sound the alarm in case of slippage
Know the operating parameters
Transmit production and maintenance schedules
You can thus:
Prevent equipment failures, stoppages and malfuntions and analyse them (history, hierarchy) to gain a better understanding
Monitor production indicators
Improve equipment reliability and increase equipment and tool availability
Manage and plan maintenance work
Work closely with production teams
SALES MANAGER
 Questions you ask yourself:
What is the status of my order?
How can I notify the customer if there is a delay?
Is the information reliable?
What alternative can I propose?
MES gives you information about:
Current status of each order
Production schedule, updated in real time
Value of inventories (quantity, location), movements of raw materials between warehouses and production shops and WIP inventory status
Quality level at all stages of production
QUALITY MANAGER
Questions you ask yourself:
Does production comply with the customer's specifications?
How can the quality rate be improved?
How can re-working and scrap be reduced?
Is production compliant with all procedures and regulatory requirements?
MES enables you to:
Analyse malfunctions
Develop processes and track their use in real time
Work closely with maintenance teams
More easily comply with customer specifications, regulations, traceability requirements, quality processes, certifications and limits on waste generation
What is MES/MOM?
MES/MOM is a shop floor information system. It enables you to collect full production data in real time and set up very precise indicators that will help you optimise your performance.
To explore the range of MES/MOM applications go to: MES/MOM at a glance
What can MES/MOM do for me?
MES/MOM provides you with information that enables you to optimise your production operations, from the start of the production run to the shipment of the final product. It enables you to improve your performance by boosting:
Resource availability
Equipment efficiency
Production quality
When your production schedule is matched as closely as possible to the reality on the shop floor, you can:
Organise production
Track your OEE (Overall Equipment Effectiveness) in real time
Smoothen the operator and equipment workload
Anticipate contingencies on the ground
Guarantee delivery times
Reduce data input by operators
Achieve greater product traceability
I already have a very good ERP, what more can MES/MOM do?
MES/MOM and ERP do not cover the same requirements. ERP is an enterprise software package involving both accounting and HR, while MES/MOM is used on the shop floor to provide a real time overview of production operations.
The MES/MOM and ERP systems collect and use their own specific data and also share common data on such parameters as traceability and quality. However, their data modelling granularity differs.
The information collected by MES/MOM is far more precise and detailed: while ERP is based on theoretical nomenclatures, MES/MOM is connected to shop floor equipment and can track a specific product in real time.
Ultimately, MES/MOM and ERP complement each other; data collected by MES/MOM can be fed into ERP.
Can my supervision cover MES/MOM functionalities
Supervision software, which is designed to control machines (for example by tracking the level of liquid in a vat, the lubrication of an engine or the operation of an actuator), is of interest to the machinery operators and line supervisors; MES/MOM is a broader system used by the production management and all relevant company personnel.
Supervision software operates at functional level, while MES/MOM offers broader functionalities that manage production systems rather than single machines.
How do I go about choosing an MES/MOM system?
MES/MOM must be a company project. Senior management often heads an MES/MOM project and all personnel involved in the MES/MOM system must take part in it.
To select an MES/MOM solution, start by defining the functional coverage of the software package: what modules will you need? Are you required to ensure the traceability of your products? Do you want to include quality control? Once you have done this, you can draft a specification to serve as the basis for defining the solution.
Other criteria that may be important to include:
Modular structure. If your production shop floor changes, you will no doubt require further functions. With a modular software package, you will not be obliged to buy an entire package at once but can add on modules to meet your needs as they arise.
Project references. Actemium's MES/MOM expertise goes back 20 years. Actemium has introduced MES/MOM solutions in many manufacturing sectors for companies with several sites or only one site.
How much does an MES/MOM system cost?
The price of an MES/MOM project is determined primarily by two criteria:
The price of the licence, which depends on the number of sites and users equipped
The cost of the various services: functional scope (i.e. the specific modules introduced), specific developments to be implemented, employee training, etc.
What is the return on investment of an MES/MOM system?
The introduction of an MES/MOM system can achieve payback very rapidly.
The potential ROI depends on the activity and the sector. It is estimated that tracking OEE (Overall Equipment Effectiveness) in real time can generate productivity gains of up to 15%.
Who should manage the introduction of an MES/MOM system?
MES/MOM must be a company project. It should be overseen by top management and involve all shop floor personnel and all stages of production, from raw material acceptance to production, quality control and product shipment.
To ensure the successful introduction of an MES/MOM solution, it is crucial to put together a team that can be fully dedicated to the project for a period of several months.
It is also necessary to focus on change management, i.e. briefings and training for operators ahead of time to boost acceptance, communication of the project's objectives and advantages, etc.
Actemium, which is ISO 9001 certified, works with Project Quality Plans (PQP). We use an iterative methodology to support you at all stages of your project – specification, analysis, training, integration, testing and validation.
How long does it take to complete an MES/MOM project?
The introduction of an MES/MOM solution is a large-scale project that will monopolise a team for several months. The team will need to prepare the project ahead of time, prior to drafting the specification, and will focus on change management, notably by conducting information briefings and training for employees.
Using the methodology based on its 20-year experience, Actemium supports you at all stages of this project. Our specialised MES project managers are well versed in all shop floor jobs. They work alongside you, on the ground, to provide the advice you need to ensure the success of your MES/MOM project.
How do I manage an MES/MOM project in a multisite environment?
MES/MOM provides a common solution covering all your production sites. You will have both a local database for each of your sites and a central database that provides a comprehensive overview of all your sites.
In practice, the system is first set up at a pilot site. Following a testing phase, either Actemium or your Information Systems Department then rolls out the MES solution at the other sites.
Can I implement an MES/MOM system without calling on an integrator?
Your IS department can develop an MES/MOM software package in-house. However, when you call on Actemium, you have the benefit of customised solutions based on Actemium's more than two decades of experience.
Building on our numerous project references in all manufacturing sectors, our MES/MOM experts are well versed in all shop floor operations and can propose solutions that address your specific issues.
In terms of methodology, we first roll out the MES/MOM system in a pilot production line or shop. You may then, if you wish, continue the rollout in-house to better take the software package on board. We also offer maintenance contracts that give you the benefit of new software releases and any corrective patches that are issued.
Contact
Find out more about our MES/MOM solutions and services
With a track record in MES/MOM systems going back 20 years, we are in a position to meet the specific needs of every sector, from food processing to manufacturing to pharmaceuticals. We support you at every stage of your MES/MOM implementation project and support and maintain your solution.
For more info, please contact our MES/MOM team :