Motor & Drive
With its Motor & Drive offer, Actemium provides a comprehensive and efficient service. Assessment, service quality and responsiveness are the three mainstays of Actemium's teams.
Caption
INTRODUCTION
The Motor & Drive offer concerns all rotating electrical machines, such as high or low voltage DC, synchronous and asynchronous motors and all ancillary equipment: alternators, generators, transformers, variable-speed transmissions, magnetic stirrers, furnace coils, etc.
The inspection, assessment and maintenance services provided for rotating machines by Actemium ensure the highest level of availability for your production plant. Containing operation costs and guaranteeing safe operation underscore the constant aim for global industrial performance.
With its Motor & Drive offer, Actemium provides a comprehensive and efficient service. Assessment, service quality and responsiveness are the three mainstays of Actemium's teams. If needed, they can be available 24/7.
Actemium employees are trained and certified to work at operating sites with high safety requirements: the absolute priority right from the site preparation phase. Shared vigilance is maintained throughout the entire service operation.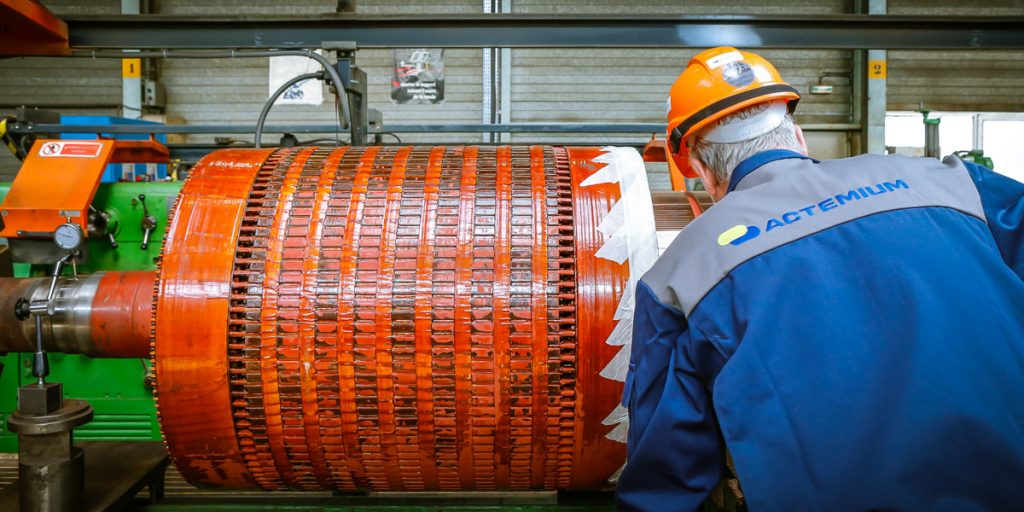 AIMS
Meet industrial clients' expectations
The expertise of Actemium's teams is unique on the rotating electrical machines market. They are able to respond to all requests, whatever the industrial client's needs and the type of equipment concerned – even the most specific. They operate both on site or in their own workshops.
Installation operation reliability and safety
Assessing the fleet of motors and other rotating machines is the first step in determining the level of wear. Actemium provides high value solutions to ensure installation operation reliability and safety, for example, predictive maintenance that involves adding instruments to certain key components of a motor to monitor certain parameters over time (temperature, ageing, etc.).
Guarantee industrial performance
The Motor & Drive services provided by Actemium are performed with one goal in mind: provide optimum operation of motors and other rotating machines to ensure process continuity at the relevant industrial site. Concretely, this involves service operations provided 24/7 in order to limit production losses in the event of equipment failure.
Supporting industrial clients
The Actemium specialist Motor & Drive teams are in direct daily contact with their clients. Along with this presence, the teams listen constantly to their clients' needs and have a deep understanding of their businesses. They can follow their industrial clients anywhere in the world under solid partnership agreements.
ACTEMIUM'S EXPERTISE 1/2
Working on site
Actemium's Motor & Drive specialists are certified to work at their clients' industrial sites. They have the tools and equipment needed to perform the many operations involved: diagnosis of rotating machines in place, corrective maintenance, disassembly, reassembly, laser aligning, commissioning assistance, armature switching, vibration measurements, etc. The focus of their work is to keep any disruption to the manufacturing process to a minimum.
Workshop servicing
Once delivered to the workshop, rotating electrical machines are completely disassembled, cleaned and repaired as-new both electrically and mechanically. Motor servicing includes a whole series of operations: metrology, static and dynamic balancing, metal-plating, parts machining, casing and stator reconditioning, shaft manufacture, paintwork, etc.
Winding for rotating machines
Windings are performed by Actemium's Motor & Drive teams for all types of low voltage, high voltage and direct current rotating electrical machines. This work is performed in workshops equipped with cutting-edge equipment, such as unwinding ovens, winding machines, vacuum impregnation stands and even controlled winding curing chambers.
ACTEMIUM'S EXPERTISE 2/2
Test benches
All tests prior to re-commissioning the serviced and/or repaired motors are conducted in Actemium's workshops. These are equipped with benches able to perform no-load and service tests, which can also be used to perform vibration analyses and stroboscopic tests of the machines being serviced.
All-inclusive or shopping list
Actemium's companies have expertise across all areas required for the Motor & Drive activity: audit, engineering, consulting, studies, repair, servicing, maintenance (curative, preventive and predictive), sale and supply of new motors. These services are available by shopping list to meet a specific need, or under an all-inclusive service contract to complete a project from A to Z, or multi-year contracts.
Multi-brand offer
Actemium's business is operated entirely independently from manufacturers of rotating electrical machines, even if partnerships have been formed with some of them. This position means it can respond to all its industrial clients' demands whatever the brand of equipment concerned.
National or international contracts
Actemium is positioned as a single point of contact for its industrial clients for Motor & Drive services. Its teams can submit proposals to national or international calls for tender, as they belong to the one brand with presence in dozens of countries around the world.
THE SECTORS CONCERNED
Actemium's specialist Motor & Drive companies mainly service clients in heavy industry: steelmaking, petrochemicals, chemistry, oil & gas, energy production, rail traction, hydropower, cement works, etc. They also work with papermakers, pharmaceutical industries, automobile OEMs, quarries and material producers, as well as the wind energy and marine industries.
Caption
INSPECT AND ASSESS
Inspecting and assessing fleets of rotating electrical machines demands cutting-edge technical expertise. These services are now systematically outsourced. Actemium's Motor & Drive companies are uniquely positioned in this respect as they have all the specific authorisations and certifications needed.
COMPLIANCE WITH REGULATORY REQUIREMENTS
Actemium's Motor & Drive teams are renowned for their ability to perform all necessary tests on electrical equipment in accordance with France's Apsad D19 standard (infrared thermography) and to provide the associated certificates needed by our industrial clients as proof for their insurance companies.
PREVENTING FAULTS
Equipment availability rates are a key factor in industrial performance. Everything must be done to prevent faults. Actemium's offer combines:
Preventive maintenance: vibration analysis, stroboscopic inspection, insulation checks, etc.
Predictive maintenance: instruments added to rotating machine components to monitor temperature, ageing, etc.
FACILITY MAINTENANCE
Rotating electrical machine maintenance is the prime area of expertise of Actemium's Motor & Drive companies. They provide their services under multi-year maintenance contracts or emergency repair operations on site or in the workshop. In all cases, and whatever the machine's brand, a completion certificate is issued as proof that the machine's characteristics comply with those stated by the manufacturer.
IMPROVING ENERGY PERFORMANCE
Actemium is aware that energy performance is a factor in overall industrial performance. As motor efficiency rates are constantly improving, Actemium's teams provide their clients with equipment presenting the best possible characteristics (IE3 efficiency standard). The addition of variable speed transmissions to motors is another way of reducing electricity consumption.
ADVISING CLIENTS ABOUT THE BEST SOLUTIONS
Actemium's Motor & Drive technicians and engineers are ideally placed to advise their clients about the best solution to the problem at hand. Providing both motor repair and new motor distribution services, they can advise clients whether it is economically more advantageous to repair a motor or replace it with its new equivalent.
The six functions of the motor & drive offer
Caption
The Motor & Drive offer: for whom?
Rotating electrical machines are found throughout industrial sites. They are a source of performance and their maintenance must be put in the hands of professionals. Decisions about their installation are made at various levels in your company.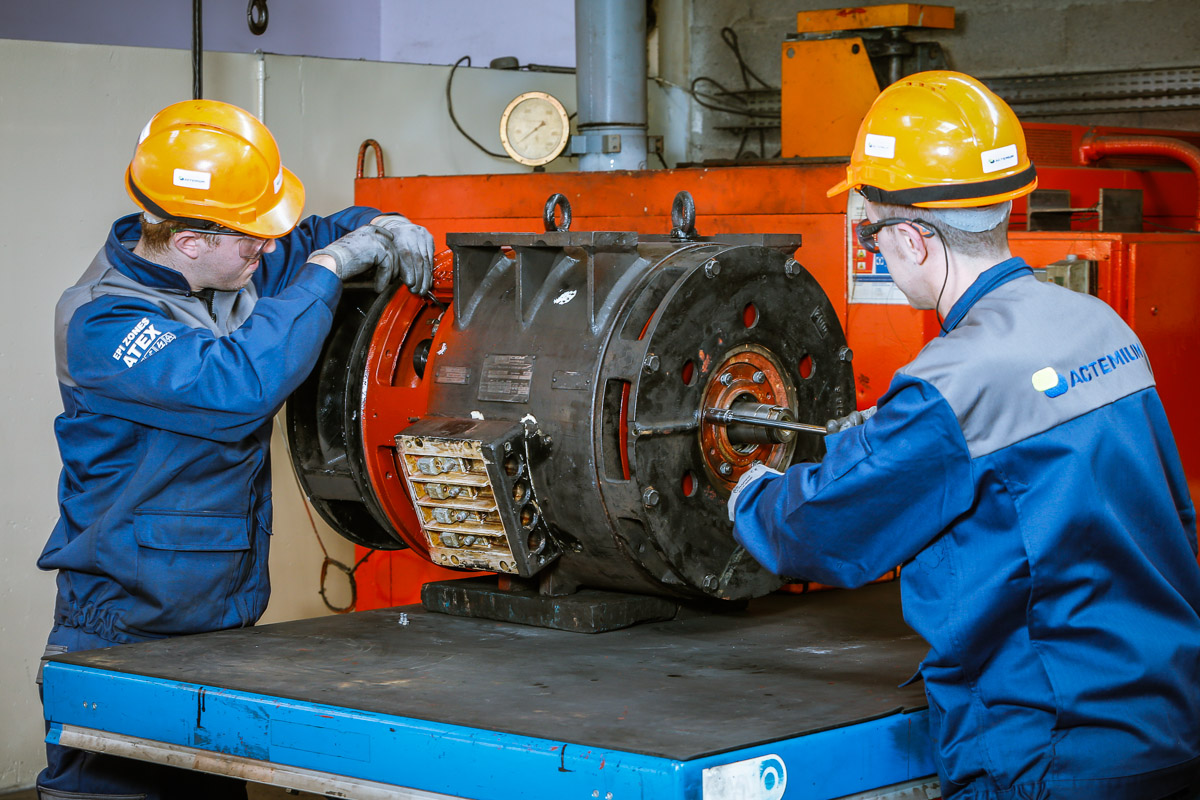 GENERAL MANAGEMENT
Your questions:
Can you help me define my specific needs?
How can I be sure of complying with the regulations for my insurers?
Where can I find a partner to work with me internationally?
Are your services compatible with the concept of predictive maintenance and the concept of Industry 4.0?
Actemium's answers:
We respond to all Motor & Drive equipment requests specific to your business sector.
Our expertise and constant technology watch means you will benefit from the most efficient equipment on the market.
We provide comprehensive support from defining your needs (engineering and consulting) through to the supply of the most appropriate equipment, its installation, commissioning and 24/24 maintenance.
We guarantee that the installations will comply in every way with the regulatory obligations in force and that we comply with insurers' requirements.
Thanks to our international presence and network mode of operation, we can provide you with support for all your projects worldwide.
We can install sensors on your equipment and assist you down the path to Industry 4.0.
THE PRODUCTION MANAGER
Your questions:
Where do I find Motor & Drive professionals who understand our business and production needs?
How responsive would you be in the event of a breakdown in order to minimise the impact on our production and industrial performance?
What do you propose in terms of energy savings to help us optimise our industrial performance?
Actemium's answers:
Our teams are by your side to advise you and propose the rotating electrical machines that best suit your installation and your manufacturing processes.
We provide you with trained specialists, individually certified and with a thorough understanding of your field of business.
We are fully aware of your production needs and will respond as quickly as possible 24/7.
Our Motor & Drive service offer is provided within a highly advanced energy performance approach (high efficiency equipment, installation of variable speed transmissions, etc.).
THE MAINTENANCE MANAGER
Your questions:
How do you provide service and maintenance for rotating electrical machines?
Can you meet our response requirements in the event of a problem?
What are the various techniques used?
Do you provide maintenance for equipment installed by other companies?
Actemium's answers:
We provide you with all types of maintenance (preventive, corrective and predictive) for all sorts of rotating electrical machines.
The expertise, diversity, equipment inventory and geographic spread of our companies mean we can respond quickly to service requests at your site or in our workshops.
The maintenance techniques used are the most advanced currently available (vibration analysis, thermography, laser alignment, etc.).
We are happy to service equipment installed by other companies.
THE QUALITY MANAGER
Your questions:
Can I be assured of compliance with all aspects of regulatory standards?
Are your employees personally authorised to perform the services we are asking of you?
Will the Motor & Drive equipment comply with the original characteristics?
Actemium's answers:
We have all the certifications required to perform our missions on site or in our workshops, in accordance with the regulations in force.
Our technicians are individually authorised to complete all the jobs entrusted to them in accordance with professional standards.
The certificate we issue is your guarantee that the rotating electrical machines serviced and repaired by us comply strictly with the same characteristics as those indicated by the manufacturer.
THE PURCHASING MANAGER
Your questions:
Can you provide a comprehensive service to manage a fleet of rotating electrical machines?
Do you have sufficient knowledge of the sites, structures and our business sector to respond to our needs?
Are you sufficiently independent from equipment manufacturers to provide us with the best facilities available on the market?
Actemium's answers:
We act as a single point of contact to answer all your needs.
We can provide a comprehensive or shopping-list service.
We are fully aware of your business through the expertise we have built up over several decades in all industrial sectors.
Our teams operate under a relationship based on proximity and partnership.
We will enable you to access the best equipment available on the market.
We have no exclusivity arrangements with any particular manufacturer of rotating machines. Our only concern is to provide the best possible response to your expectations under a close relationship.
THE SAFETY MANAGER
Your questions:
How do your teams factor in the notion of safety when performing their services on site?
Is your equipment compatible with the safety standards required in the most exposed environments, such as nuclear, Seveso Directive or ATEX (explosive atmosphere) sites?
Actemium's answers:
Safety is our number one priority and is fully integrated into the preparation of all our service assignments. Our structures comply with the most stringent safety management standards used by industrial companies.
Safe behaviour is a fundamental requirement for all our employees.
Compliance tests for rotating electrical machines are conducted in our certified workshops.
We are authorised to operate in all industrial environments (nuclear, ATEX, Seveso, food & beverage, etc.).
Caption
Contact us
You would like more information about our Motor & Drive service offer?
We are by your side to take charge of all your Motor & Drive needs, locally and internationally. Responsive, our network of local companies reacts equally to urgent repair requests, maintenance operations and even engineering and consulting services or design studies.
For any additional information, please contact our teams: