News
The ultimate scanning solution to provide greater efficiency and accuracy
KPN, a Dutch landline and mobile telecommunications company, has used handheld scanners in more than 100 stores for inventories and registration of daily deliveries. However, Edwin Hammerstein, Product Owner Retail & CS at KPN, revealed that their scanning solution was outdated because it ran on the no longer supported Windows CE operating system.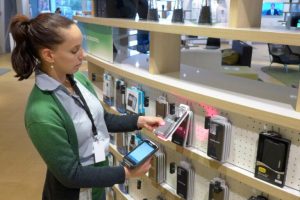 "As a result, scanners were no longer available and we no longer received any security updates. Our main requirements for replacing the hardware and software were: standardization on Android, integration with our SAP ERP system, a touchscreen, the possibility to install more apps and security by design" explains Wilco Marx, Project Manager IT of Retail Operations.
Thanks to the modernized scanning solution of Actemium Netherlands,
it has provided KPN greater efficiency and accuracy. The new scanners run on Android and are equipped with modern touchscreens and 2D imager barcode scanners. The new solution was implemented next to the existing system to allow a smooth transition without disrupting daily operations. The scanning solution is now up to date throughout all stores.
Hammerstein states, "The new scanners and applications save our employees time every day. For example, they can now carry out an inventory that previously took 15 minutes in barely five minutes. Together with our team, Actemium went through all data flows and processes in a very practice-oriented way to implement possible improvements. As a result, we now have a future-proof and user-friendly retail scanning solution."
For more information, please contact Actemium Logistics Netherlands.