News
Onshore Power Supply (OPS)
Actemium electrifies tankers in potentially explosive areas (ATEX) in the Port of Gothenburg!
The Port of Gothenburg (Sweden) has developed a new concept that makes the electrical supply of tankers safe, sustainable, and cost-effective. Stefan Strömberg, press officer at the Port of Gothenburg, explains that "one of the challenges has been to find a player that can design and install the solution needed, as this project aims to set a new global standard. "
The port has awarded Actemium Electro as a turn-key supplier to carry out the project, which will be commissioned in 2023.
Due to high requirements for operating electrical plants in hazardous areas, Actemium was already involved in a very early stage to support the customer with preparing construction and building permit documents.
Based on the customer concept and thanks to a new technological solution that guarantees safety, three installed containers will be operating permanently in a potentially explosive environment at the port. "Hazardous areas are placing special requirements on the delivery and safe handling of cables between land and ship," says André Olofsson, Project Manager OPS Solutions for Actemium Sweden.
"Actemium offers its customers knowledge, resources, and a solution contributing to a more sustainable future," concludes Ingemar Gustavsson, brand manager of Actemium Sweden.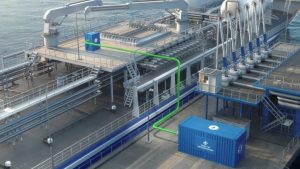 For more information, please contact André Olofsson.