News
How can aircraft manufacturers and maintainers test aircraft jacks efficiently?
The aircraft manufacturers and maintainers possess many hydraulic jacks from different manufacturers. They are compounded with several hydraulic cylinders that must be checked periodically to detect any fluid leakage. To perform these check-ups, each manufacturer has its own specific device to test its jack.
Actemium Madrid Mantenimiento designed and built a testing tool compatible with all jacks, regardless of the manufacturer. This solution will allow the client to only go through Actemium to run the diagnostic. Actemium's device is completely versatile and it can be used for all kinds of jacks from 0 Tn to 250 Tn. By utilizing this testing tool, the client will no longer need to send it to the manufacturing facilities or need different devices to test all of them. This will ultimately save the client time and money. Read more about this 'all-in-one' tool.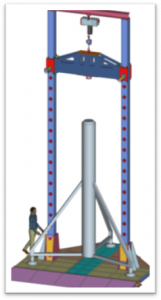 For more information, please contact Rosa-Maria Pajares.