News
Logistics
Human-machine symbiosis delivered by Actemium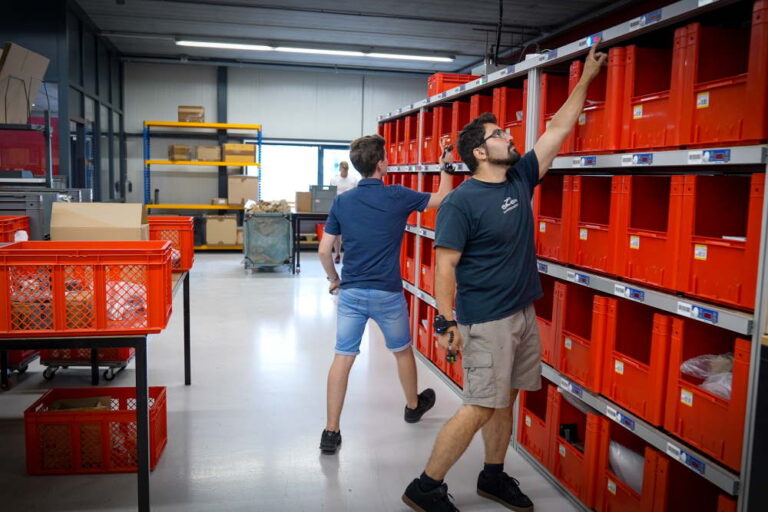 The company Double R Parts supplies engines, all-terrain vehicles, outboard motors and related OEM parts to companies and professionals in the motorcycle industry worldwide, working out of their large warehouse in Gorinchem, Netherlands.
Until recently, Double R Parts sorted parts manually and searched through lots of articles before finding the right ones, leading to mistakes and difficulty keeping up with orders. Their cross-docking and order consolidation process was in need of a bespoke turnkey solution.
Joost Vervoort, project manager and solutions developer at Actemium Netherlands, suggested adjustments of the order processing process in the form of an extra sorting step with first pre-sorting and only then fine-sorting per customer. Actemium now supports the entire Double R Parts process, providing technological solutions such as a Goods-to-Person (GTP) system based on Autonomous Mobile Robots (AMRs), Pick to Light (PTL) and Sort to Light (STL) technology. Actemium's Warehouse Management System (WMS)-Warehouse Control System (WCS) has also been implemented.
As a result of those new solutions, employees can sort up to 600 items per hour per person. They now use a pre-sorting wall for incoming articles and two fine sorting areas for customer order fulfillment. More than 1000 spots are available for the orders' consolidation in cabinets that can be moved with AMRs and over which Actemium WMS/WCS keeps an overview.
A hybrid environment with a perfect symbiosis between people and equipment! The new system provides peace of mind and a better overview. We make far fewer mistakes now. 
concludes Karsten Van de Nadort, Director at Double 'R' Trading B.V.