News
Offshore Gas: clean energy as a standard
As the main contractor of the Gallaf Project, Daewoo Shipbuilding and Marine Engineering Co. Ltd. (DSME) is delivering the new main process platform of Qatar Gallaf Project Batch 3 to be installed on the Al Shaheen field, one of the largest offshore gas fields in the world.
Long-standing customer DSME (Pazflor FPSO – 2008, Ichthys FPSO – 2015) jointly awarded Actemium Oil & Gas Process Automation and Actemium Oil & Gas Commissioning the turn-key scope of the commissioning and control system of the new platform.
The project will be carried out over an estimated period of 35 months between France, Malaysia, Korea, Bahrain and Qatar.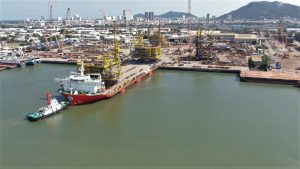 ©Vincent Moissard
For more information, please contact Loïc Pondaven or Christophe Monier.