READ MORE ABOUT LIFE SCIENCES SOLUTIONS
AMS
An Alarm Management System (AMS) is crucial for consolidating all your plant alarms into a clear overview that shows priorities. Actemium can help you to integrate this system type into a human-centred approach.
AUTOMATION
including Industry 4.0, MES/MOM, data management, and industrial IT (or Operational Technology 'OT') and automation
Find the right level of automation
Actemium's process, automation and compliance specialists combine their process and GMP understanding to ensure automation systems that fit your needs exactly.
Increase competitiveness with automation and IT
Actemium has a strong, in-house competence network in process control / automation and OT – based in various internal competence centres to deliver the adequate IT/OT solutions through one single supplier. This includes Axians – a Vinci Energies-dedicated ICT brand.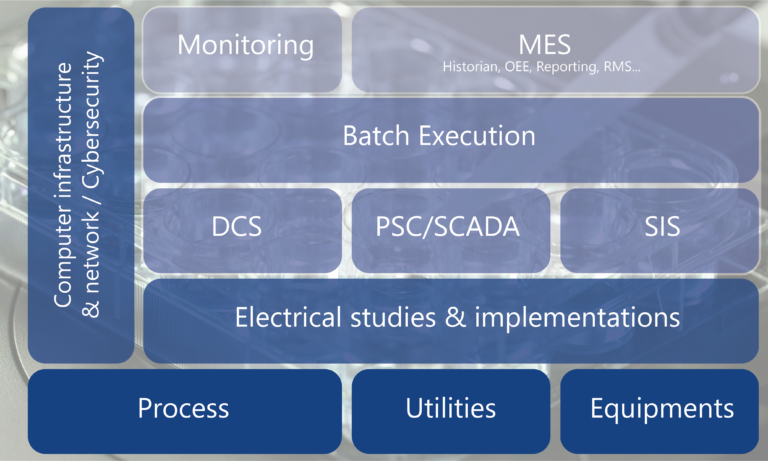 a. Process control systems (PLC, Scada, PLC+Scada, Batch system, DCS/PCS)
b. Manufacturing Execution system (MES)
c. Electronic batch recording systems (eBR)
d. Data collection and analysis systems (Historian, KPI, OEE)
e. IT and system architecture (virtualisation)
f. Cybersecurity
Actemium can help you comply with standards including:
ISPE GAMPv5
ISA S88
ISA S95
FDA CFR21 part 11
EU GMP Annex 15
OPC Interface
GS1 bar codes
AUTOMATION AND IT LIFECYCLE MANAGEMENT
Actemium has extensive experience of developing and implementing automation and IT solutions in pharma and biotech environments. Whether the project involves a single barcode reader or a complete paperless production facility, it can help customers at all stages of implementation with a special focus on the lifecycle management of the technology used.
BUILDINGS
including clean rooms, EMS/BMS, AMS, HVAC
Over the years, Actemium has built extensive partnerships with clean room panel builders. Combined with Actemium's technical competencies, they can integrate all techniques into your facility.
An Environmental Monitoring System (EMS) is a framework for monitoring all relevant critical environmental conditions in Good Manufacturing Practices (GMP) and Good Laboratory Practices (GLP) environments where monitoring is a regulatory 'must'. Actemium can provide smart EMS integrating the newest technology (such as IOT, wireless sensors, Mean Kinetic Temperature), together with a robust system that guarantees system reliability at low maintenance cost but to the highest quality standards.
A Building Management System (BMS) manages your building automation. Actemium adheres to the same rigorous standards as for EMS, but without the GMP/GLP element.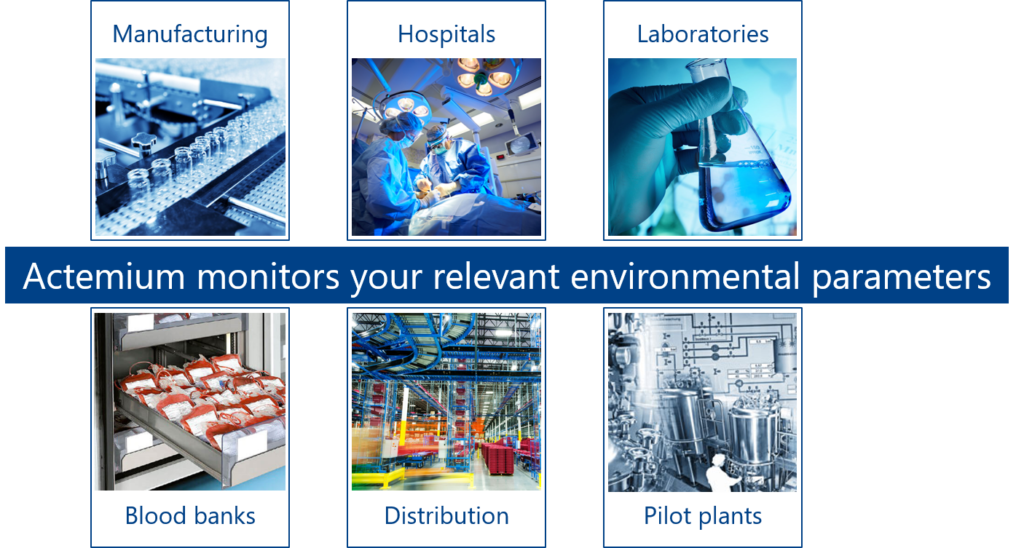 DATA GOVERNANCE AND INFORMATION MANAGEMENT
The aim of data management is to improve process control by enabling better (and ideally centralised) access to relevant information generated by manufacturing and laboratory equipment.​
Actemium can deliver services and support you at every stage including:​
Analysis of existing automation / OT- IT landscape
Enhancement or improvement of the concept, architecture and roadmap to implement data management
Designing, building and delivering qualified solutions from data source systems and equipment through to end user dash boards​
Support to continually improve your process knowledge and efficiency
Data integrity ensures the completeness, consistency and accuracy of data throughout its lifecycle. It is often referred to using the FDA's five 'ALCOA+' principles that, in addition to it being attributable, legible, contemporaneous, original and accurate, require it to be:

Complete
Consistent
Enduring
Available
Actemium services can ensure your data and systems fulfil data integrity requirements including:
Compliance assessment of existing automation / OT- IT systems (including systems inventory, systems assessment)
Proposing remediation plans and corrective actions
Implementing efficient and effective solutions to improve systems compliance (including upgrade, migration and ad-hoc solutions) while taking into account business constraints
Delivering training to maintain or improve data integrity awareness and mindset company-wide.
HVAC
Effective heating, ventilation and air-conditioning (HVAC) is vital for every Life Sciences facility. But while some systems are validated, others are less critical. Actemium has the in-depth knowledge needed to support you by drawing on its process and validation expertise to integrate HVAC seamlessly into your building and processes.
HVAC systems are essential for controlling the overall quality of the interior air environment and manufacturing process conditions – a key element of infrastructure with significant impact on manufacturing costs and the control of airborne particles. In addition, good engineering and implementation are required to develop a pressure balance in your building to avoid external- or cross-contamination.
Due to their complexity, HVAC requires a high degree of automation and a full range of customisation in line with production processes. It also has to be operated under a correct but flexible scenario that includes dynamic input conditions.
Many HVAC systems are among the most costly to operate and have a direct impact on overall energy efficiency and CO2 footprint reduction targets.
Actemium can help you optimise around your product wishes relating to temperature, humidity, air changes and particles, in combination with an optimised energy consumption that takes GMP guidelines into account.
LOGISTICS AND PACKAGING
Adapting your packaging lines and information system to comply with international anti-counterfeit regulations is critical. Actemium helps make this happen by leveraging its expertise in serialisation and aggregation.
From the management of data flow between authorities, repertories and your IT system to driving printers, vision and packaging line automation, Actemium can offer turnkey projects delivered through complete solutions and services.
Need the assurance of working with a very experienced supplier? See our case studies.
Offering a tailored solutions package to ensure the efficient running of your post-production processes, Actemium also provides complete end-of-line automation and integration.
It's also a specialist in robotics, bringing in-depth expertise in handling, highly precise positioning, conveyor tracking and stacking patterns.
Actemium's Virtual Twin simulation system is a fast, cost-efficient way of exploring if a solution is right for your facility, before you make any investments.
Warehouse Management Systems
The warehouse is an important hub in any supply chain. After all, the stocks of product, employees and processes are the lifeblood of your company. That's why it's crucial that all activities within your warehouse are organised and automated as efficiently and effectively as possible.
Actemium offers you a flexible Warehouse Management System (WMS) that can be configured to optimise the management of every phase of your logistical process. This enables your warehouse staff to work mobile and paper-free anywhere, with integrated support to keep the chances of errors to a minimum.
Your warehouse is unique – with no company or logistical process ever the same. So working with standard automation software unavoidably leads to a solution that becomes too constrictive in time. It's for that reason that Actemium offers a WMS that consists of predefined modules that can be configured flexibly for all the usual activities at your warehouse. Actemium's WMS was developed on the basis of many years' experience and knowledge of logistical processes. Our point of departure is always to add only those functionalities that are missing in your ERP system to avoid overlapping.
MACHINE AND LOGISTICS
Offering a specific solutions package for the efficient running of your post-production processes, Actemium also provides complete end-of-line automation and integration.
In revamping projects, Actemium combines a standardised methodology with great functional knowledge of different types and brands of PLCs and drives. This results in a unique approach that only a brand-independent integrator can offer.
Actemium offers you an automation solution with comprehensive registration of all the actions and traceability of the raw materials, semi-finished products and parts used. It also handles the integration of different brands of RFID-scanners, barcode scanners, PDAs, tablets, handhelds and fork-lift truck terminals.
OEE (Overall Equipment Effectiveness)
With OEE, Actemium offers you deeper insight into your processes. Thanks to real-time monitoring and machine analyses, the bottlenecks in your processes are charted, giving you a clear picture of possible losses. Quality, performance and availability parameters are merged to arrive at the most efficient way of working.
Aftercare is always included at Actemium. You can count on that, day after day, round the clock. Its experts will collate all the detail about the availability of engineers, prevention and online monitoring etc. in a service agreement. That's how Actemium creates a unique service package for each client that perfectly meets their wishes and needs.
Quality control, picking and placing, positioning: three important phases in your production process. Thanks to the use of vision systems, each can be very closely monitored and regulated. Actemium carries out feasibility studies and, on the basis of its results, will propose a customised solution that's completely brand-independent.
PROCESS
You can rely on Actemium's years of expertise in engineering and design, build, commissioning and validation to deliver benefits across a wide range of process solutions in pharma and biotech plants. These include:
Clean utilities: Making the user requirement specifications and usage matrix its starting point, Actemium unburdens you by offering design and build for generation and distribution loops solutions for clean liquids (e.g. PW, WFI) or gases (e.g. nitrogen, steam, compressed air), CIP/SIP and many other utilities solutions.
Black utilities: Taking the same professional approach as for clean utilities, Actemium designs and builds complete solutions for plant steam, cooling water, compressed air and other sector requirements (e.g. solvents, effluents).
Skids: Whatever your processing environment requires, Actemium has the expertise and experience to put it together for you by offering an extensive range of (modular) skids for clean utilities applications and/or processes related applications (e.g. Cleaning in Place / Sterilisation in Place – CIP and SIP, heating/cooling/decontamination/ pump or filtration skids).
Services: Actemium creates added value by offering:

A thorough process knowledge covering diverse sectors
Targeted, tailormade services including proactive, preventive, predictive and corrective maintenance
Management and implementation of major maintenance shutdowns
Tailormade business service flows delivering high flexibility 24/7
QUALITY / VALIDATION
As a recognised player in the Life Sciences sector, Actemium plans and develops according to established GxP guidelines.
By supporting its customers' project quality management at every stage, it ensures efficient transition to the 'next phase' – from design right through to commissioning. This can include:​​
Review and confirmation of feasibility studies
Functional analysis
FAT, SAT​
Manufacturing control (manufacturing file, manufacturer's file)
IQ, OQ, non-compliance management​
Manufacturing resource planning (MRP)​
Competency management​​ / knowledge management
Computer system validation (CSV)
TRANSLATING INDUSTRY 4.0 INTO PHARMA 4.0
While Industry 4.0 is seen as a new industrial revolution, its implementation in the Life Sciences Industry will more likely resemble evolution in which digitalisation and automation will come into sharper focus.
Digitalisation enables you to connect everything – creating new levels of transparency and speed through a digitalised plant floor. This enables faster decision-making, as well as providing in-line and in-time control over business operations and quality. But it will also require greater focus on security since connected systems heighten vulnerability.
Working closely with its customers, Actemium aims to identify and develop business cases to showcase which industry 4.0 automation and digitalisation technologies can be applied to pharma. It then explores and analyses the implications for the pharma industry in the context of the current regulatory challenges the sector is facing.
The following topics are especially important drivers in this context:
Enabling full system integration and cross-communication
Using advanced process simulation and building a 'digital twin'
Integrating the Internet of things (IoT)
Focusing on cybersecurity
Collecting data and generating value from it using data analytics and artificial intelligence
Integrating new mobility solutions through web mobile applications using augmented reality.