Solutions / Expertise
MATERIALS
Winning, crushing, pre-homogenization, drying, breaking, baking, etc.
From the quarry to finished products, Actemium carries out power distribution installation and automation operations (implementation of automated industrial systems), intended for the main fields of materials' industry.
Its teams participate in the revamping of existing units or in designing / building new equipment all over the world.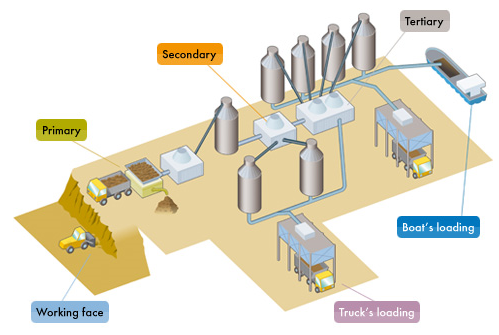 MINING AND RAW MATERIAL HANDLING
We are your reliable partner when it comes to complete automation solutions for surface mines, use of state-of-the-art sensor technology to protect your large-scale equipment, application of reliable measuring methods for assuring the quality of your extracted raw materials or energy-efficient solutions in drive technology and energy supply.
Our many years of experience and our ambitious aim to stay abreast of technological developments are your guarantee that your project goals will be met.
Our services:
Layout, project planning, procurement, supply, erection and startup of electrical and I&C equipment for:
Bucket wheel and bucket chain excavators, dragline
Spreaders and stackers
Belt conveyors
Speed-controlled and conventional belt conveyors
Storage areas for loose bulk goods
Shiploaders, Stackers/Reclaimers
Crane systems
Drainage systems for surface mines
Control stations and automation systems
Material quality management systems
Energy supply stations
KNOW-HOW
Electrical engineering – Implementation
Gauging of the installation
Engineering HV/LV
Definition of power and control boards
Definition sensors
Implementation
Construction of power boards
Wiring on unit HV/LV
Integration sensors
Compliancy
Automation
Automation, supervision
Functional analysis
Production management, traceability
Performance improvement
Industrial data processing
Specific applications
Training and technological transfer
Measuring and control
Data processing networks, wired and wifi
Radio remote control
Automation grinder
Auto-loading via badges
On-board data processing
Control and individual test of emergency shutdowns
Optimization of materials' flow
Units' monitoring
Diagnostic and modem assistance
Special machines