News
A Green Transition in industry: Virtual flow measuring with neural networks
With the growing interest to reduce the consumption of resources, measurements must first be taken. Measuring devices such as flow meters are costly to install and require high maintenance which is why there is often only a main meter available. However, this means that the partial uses per installation are unknown, thus, cannot be optimized.
To solve this problem, Actemium in Belgium developed a technique that can divide the main consumption into accurate partial consumptions. This technique is based on neural network technology that works as a 'conventional' meter.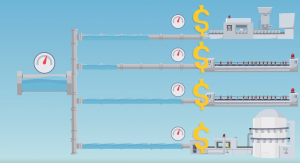 Based on historical data from the main meter, virtual meters are created to map out the partial usages. These virtual sensors are a primary indicator for anomalies in consumption by comparing the predicted sub consumptions and the measured total consumption. During the pilot project, the team has calculated the water usage that could already be reduced by approximately 10%.
Apart from energy flows like water, steam (gas), and electricity, this technique can also be deployed for product flows and cleaning solutions flow of raw materials in all kinds of industries.
For more information, please contact Greet Lefebvre.