Actemium's Logistics Solutions
Actemium's logistics solutions combine the reliability of proven standards with the flexibility and scalability of custom solutions.
For our customers, this results in a more efficient process which improves the competitive position.
The benefits will be less costs, less failures, a better compliance, more flexibility and better decisions.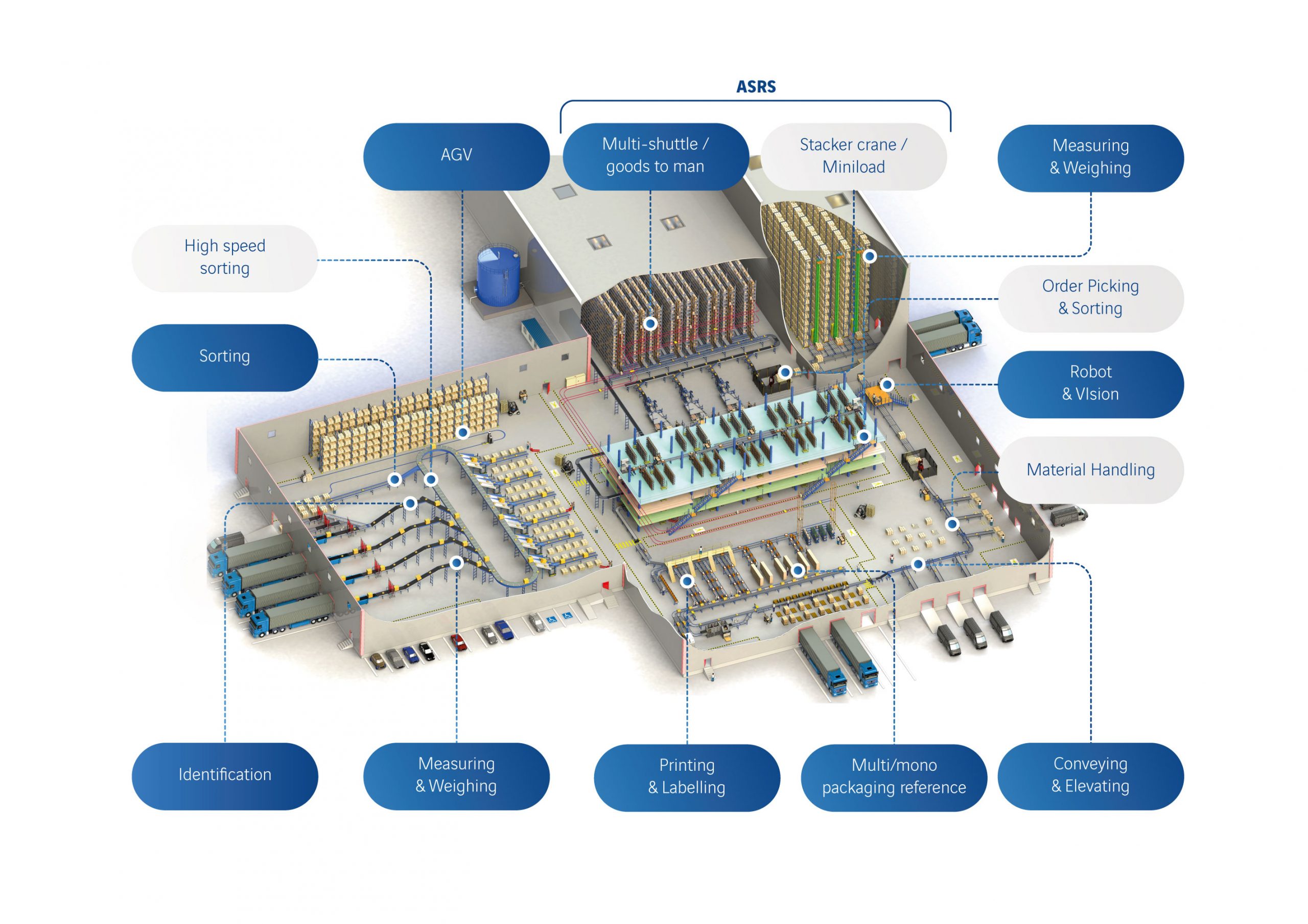 Warehouse intelligence

Warehouse Management System (WMS)
Warehouse Control System (WCS)
WCS retrofit
Orderpicking optimalisation software
Advanced Planning & Scheduling (APS)
Labeling software (Nicelabel)
BI / Digital twin
Transport Management System (TMS)
Solutions for Value Added Services
ERP?
ERP mobility
Production registration (PRS)
Wireless networking
Saas, Naas,…Solution, Network As A Service

Identification

Masterdata Aquistion
Dimension, Scanning & Weighing (DWS)
Label Print & Apply
Online coding
RFID applications
Barcode scanners
Label printers
Labels and supplies
Locationing
Tunnel for 1,2,3,4,5 or 6 reading faces
OCR solutions
Video Coding

Automated storage & retrieval (ASRS)

Cranes
Shuttles (crates and boxes)
Miniload
Vertical lift
AGV / AMR applications
Cabinet to person
Pallets to persons
Bins to persons

Picking & Packing

Picking solutions
Pick & Put to light
Voice picking
RF Scanning / hand held software
Goods to Person (AGV / AMR)
Packing solutions
Carton erecting, filling and closing
Document insertion & pouching
Filling & stacking calculation
Dispatching solutions
Quality and proof of delivery
Whare

Conveying & Sorting

Conveying solutions (crates, pallets, totes, cartons, trays)
Conveyor systems
Elevating / lift / valve
Station System
Global collection Solution the Sorting
Sorting solutions
Low Speed Sorting
Medium Speed Sorting
High Speed Sorting
Sorter dispatching solutions
Cross belt, Bombay, push tray, sweep belt, shoe sorters
Controls & identification
Controls and visualisation (PLC & SCADA)
Controls retrofit
Inline identification
Inline Dimension, Scanning & Weighing (DWS)

AMR & Robotics

AMR applications
Put away
Cross docking
A to B transport
Goods to Persons
Dynamic Zone Picking
Marshalling
Robot (& vision) applications
(De-)Palletizing
Random parcel handling
Piece picking
Mixed (De-)Palletizing
Sorter induction
Robot label apply
Robot handling & assembly
Layer (De-) paletizzation
Singularization

Handheld & mobile devices

Mobile computers
Mobile device management
Barcode scanners and labelprinters

Equipment & Infrastructure

IT infastructure
Wireless networking
Ethernet
(Virtual) server & cloud hosting
IoT
WIFI infrastructure
Warehouse equipment
Racking / shelves / dynamic / static
Workstation / ergonomy
Mezzanine / plateform
Want to learn more?
Our experts are here to answer!