Expertise
Overview
The technical expert that understands the beer, water and soft drinks sector
As your technology partner and industry specialist, Actemium works with you to build a production environment designed to achieve your objectives. Its far-reaching knowledge of the beer, water and soft drinks sector means many of the world's largest producers and brewers are regular customers. Through its commitment to long-term partnerships, Actemium becomes an extension of your organisation that takes day-to-day technical challenges off your shoulders.
Frequently Asked Questions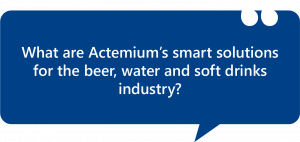 Algorithms can improve your processes when machine learning techniques are implemented. Actemium achieves this through solutions such as Smart CIP and Smart Operator.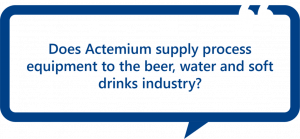 Yes – including equipment for carbonation such as the patented carbonation unit, which integrates the concept of Smart Processes. As well as for degassing, dosing and mixing. Actemium can supply this fully integrated into your plant platform or as a standalone installation.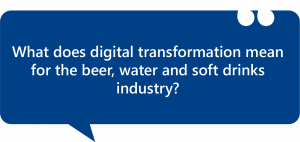 By using cloud computing you can reduce your reliance on user-owned computer hardware and software. Digital solutions also support cost savings and efficiency gains by going paperless. Food & Beverage businesses can take advantage of developments in other industries to drive their own digital transformation.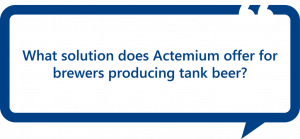 Actemium can help tank beer producers with logistics, as well as advice on how to remain in control the full length of the tank beer supply chain. Solutions include Telling Tank, Telling Truck and Telling Event.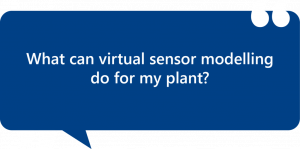 Data analytics can help you realise valuable savings by enabling you to track energy and water usage – even in the most hard-to-reach locations.
The in-line carbonator is a fully automated unit with a built-in ability to handle a large number of beverage recipes. This allows for the production line to be flexible and enables instant changeovers. Also, with the patented injection principle, it offers a short payback period and the CO2 savings account for up to 40%.
Solutions
Whether it involves electrical and mechanical improvements or process automation, Actemium ensures efficiency and customer satisfaction at every step of your production process:
Micro-Loop – injects CO2 in-line before filling your beverages (even aseptic products) to optimise efficiency
Smart CIP – optimises the CIP process to reduce energy, water and CIP ingredients plus makes data analytics easily visible for the operator
Smart Operator – Smart Factory – assists the operator to ensure more efficient, energy-safe decisions and may even replace them
Smart Virtual Sensor Modelling – improves energy and water usage by measuring flow in hard-to-reach locations with the help of data analytics
Telling Tank – a high-tech solution that allows brewers to stay in control, even when their beer is stored in external tanks
Virtual Reality Tooling – displays real-time data and information from any source as AR objects
Vibrometry – determines strengths and stresses in piping systems through video technology in combination with 3D Scan and Plant 3
AUTECS – a fully integrated process control system that adapts to individual operating processes, information requirements and interfaces thanks to its modular architecture
McRae Brewery software – brewing control system software products that empower brewers to decrease cost, improve quality, reduce waste, and increase throughput
Besides in-house brewery solutions, Actemium also implements solutions as an integrator of process & MES technology platforms, combining segment knowledge with proven execution methodology in process control and MES.