Overview
Animal feed market vendors are making the most of powerful technical innovations to launch advanced new products. It means that at a global level, this segment is shifting. Feed industry manufacturers now need to anticipate the market by finding a partner who understands its many changes and challenges.
Actemium advises, designs, builds and maintains dedicated feed industry solutions, offering all the advantages of its business network's combined experience. Its teams not only have a detailed understanding of your production process, they have the expertise to service your local requirements, as well as global production projects.

Challenges facing the feed sector
The feed ecosystem is witnessing change on multiple fronts.
Raw materials trading is being digitised. At the same time, both the market and its raw material prices are volatile as a result of increased globalisation, international crises and increased competition.
Other factors include a big rise in organic products as clients restructure to make their plants organic-ready, plus a focus on traceability at a time of greater regulation. Sustainable development is another major theme as climate impact rises up the agenda in parallel with quality, competitiveness, safety and innovation.
Driving everything, of course, are ever-greater customer expectations around reliability and responsiveness, along with access to dedicated advice and expertise. In particular, customers are facing the challenge of having to adapt to increasingly demanding retail specifications. Smart farms, meanwhile, are switching to precision feeding (some managed by AI) which means personalised feed regimes and deliveries that can change from day to day.
Challenges facing customers
Feed customers, too, are confronting diverse challenges. They include:
Traceability: you need to implement IT solutions that ensure product traceability suitable for your processes.
Flexibility and just-in-time delivery: your ability to be able to respond to orders, however late you receive them, is vital. And you need to adapt your manufacturing plan to reflect the order, taking into account seasonal fluctuations at all times.
Energy monitoring: optimising your energy use is critical to gain competitive edge.
Cybersecurity: protecting your systems against cyber vandalism is essential.
Regulations covering safety and hygiene standards: you need to be ready to guarantee the quality and safety of your products, complying with ever-tougher regulatory standards.
Worker well-being: doing what it takes to ensure good employee working conditions is non-negotiable.
In-depth expertise plus experience in advanced automation solutions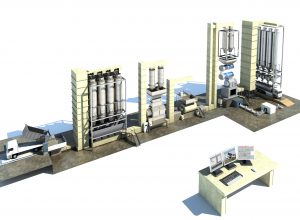 Actemium's customers can be sure that the experts at Actemium are fully aware of the feed specifications for the entire production process, end-to-end.
Every customer can call upon its advice and guidance on automation, instrumentation and electrical solutions. The Actemium expertise also extends to consulting, process control systems, MES, logistics automation, data analytics, tracking and tracing, advanced planning, cross-contamination, OEE and energy management.
I especially appreciate the knowledge and drive of the Actemium employees. This is unprecedented. They have a lot of knowledge within automation in the animal feed sector.
Marcel Jeurissen
Plant manager at de heus
Actemium stood out rather quickly among all candidates. A concrete proposal, good quality for a reasonable price.
Peter Den Ouden
Technical manager at ferm o feed
Looking for more information? Don't hesitate to contact us.